I made a store so you can buy a copy of Horkin & Henry!
The book is all the Horkin & Henry comics that are on this site (part 1 through 5) and is pretty cool to read all at once in a book like that. It's 32 pages total and feels nice in your hands. I hand-cut and sewed and printed it and stuff and I think it turned out PRETTY GOOD. Woo woo try it out!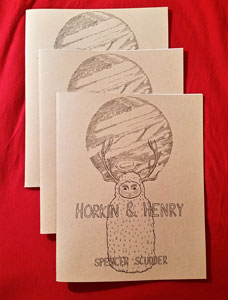 I took this picture on my bed.
P.S. If you happen to live in Portland, Oregon you should just email me or comment instead and I'll tell you a cooler way to get it 😉